Construction Update at 2nd and Commercial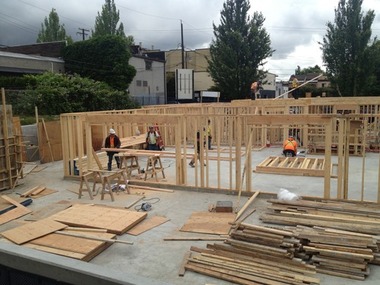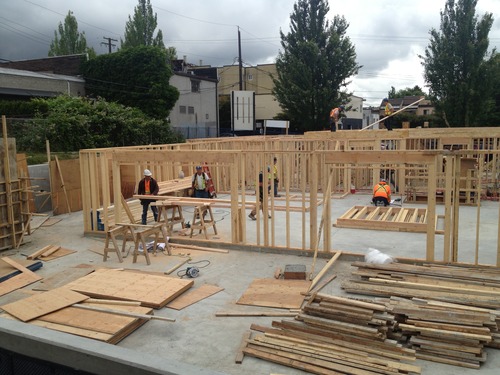 It has been a while since we shared an update about our LEED GOLD Development at 2nd and Commercial, so we thought we should fill you in.
Spraying Concrete?
In most cases, concrete is poured or pumped, but there are other ways. Sprayed concrete, is another method of applying concrete that is generally self supporting without the need for form work. It is often referred to as "Shotcrete". The concrete mix is supplied in the wet form and pumped into the spraying nozzle where air is added to the project the concrete. Why did we spray instead of pour?
-Sustainability: Reduction in formwork (construction waste)
-Time Savings due to reduction in formwork
-Ability to convey material over 200 meters to point of application
Click here for a video! (not our team though)
Foundation for a Cool LEED Project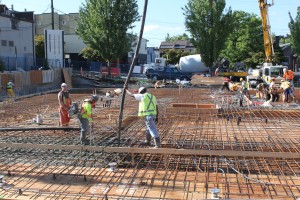 Vancouver Ready Mix provided 260 cubic meters of ready-mix concrete for the suspended slab on this project, which was pumped by Metro Concrete Pumping. As can be seen in the photo below, wood forms are suspended on steel supports to form up the concrete slab. The concrete truck is feeding concrete to a concrete pumper, which is pumping it to where the slab is being poured.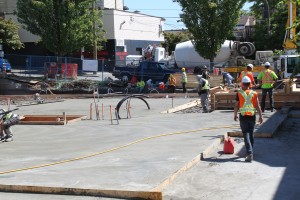 It's officially summer, lets kick it into high gear!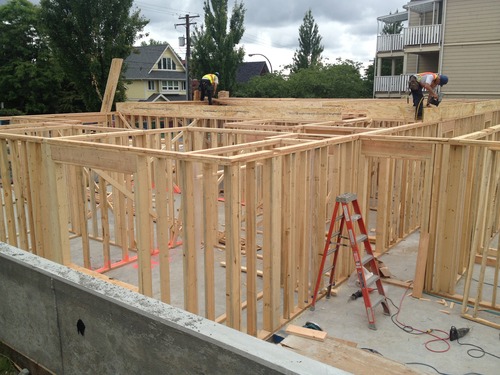 Now that the suspended slab is complete, we are ready to really build! Just this week, framing has begun. Get ready to see 2nd and Commercial shoot up in the next two months.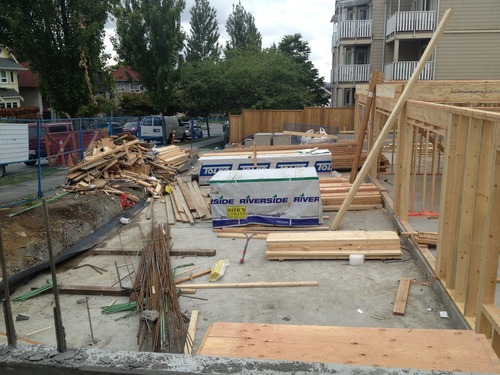 During each construction phase at NOW Developments, a great amount of time & effort is dedicated to finding ways to be more sustainable. This includes sustainable building processes, materials, and waste reduction. A more efficient and healthy home puts less of a drain on our environment.